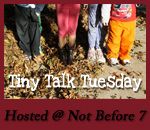 One morning a couple of days ago, Tornado Boy came out to greet me when he was supposed to be changing into his clothes for the day. He was giggling mightily with his pants on his head. He said: "Look, I'm Picasso!"
Yesterday morning we went to the park for a nature walk. We happened upon this goose who clearly had a wounded wing. I asked Tornado Boy what he thought may have happened to the goose. He told me that he thought he was attacked by either "a jaguar or a piranha". Evidently we have some serious predators that I wasn't aware of in the park!
See what others are saying at Not Before 7.